Junior Meat Goat Show Circuit
The JMGSC was organized in 1996 to reward Junior Meat Goat Exhibitors that are competitively involved in exhibiting market meat goats throughout Texas in Prospect Livestock Shows, Jackpot Livestock Shows and State Market Meat Goat Livestock Shows.


The JMGSC is dedicated to assisting individuals and organizations in producing high quality market meat goat livestock shows with rules/guidelines that are as consistent as possible.


The Junior Meat Goat Show Circuit members and parents of members are dedicated to promoting and spreading information about the market meat goat industry.


---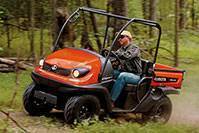 The JMGSC is offering something new this year!! We will be raffling off a Kubota RTVci valued at $12,500 & loaded with accessories!! Tickets are $50 each, but we will only be selling a maximum of 500 tickets!! This weekend at the Fall Spectacular in San Angelo will be your first opportunity to buy tickets, the JMGSC will have a table set up were you can purchase your tickets or you can contact any Jr. Director, Board of Director, or the JMGSC office!! We will be drawing the winner at our Annual Banquet in July.

---
Our Jr. Directors have been working hard to come up with some new ideas for our organization, and have came up with a nice t-shirt for our members and families. We would love to be able to pass shirts out at the Fall Spectacular, so we ask that all shirt orders be into the JMGSC office by November 1st. This is a great opportunity to get both the t-shirt order and show entries in so we can have everything ready for that weekend.
If you have any questions you can contact Stormy Sellers at (940) 674-5435 or jmgsc.tx@gmail.com; you can send all double point show entries and/or t-shirt order to PO Box 251, Ira, TX 79527. If you would like to order a shirt but will not be attending the annual show please contact Stormy for arrangements to pick up shirts or to have them shipped.
CLICK HERE TO DOWNLOAD ORDER FORM
News and Events
The
JMGSC
has initiated more scholarship opportunities for our members!!!!
Click here
for the exciting news!!
Annual Banquet will be held July 22nd at the 4-H center in San Angelo, TX at 6pm
Remember to bring silent auction items to the awards banquet, these help to fund our graduating senior scholarships
If you would like to become a Jr. Director on our board check out the Jr. Director Qualifications and submit an essay by July 1st.
Click
here
to view qualificiations.